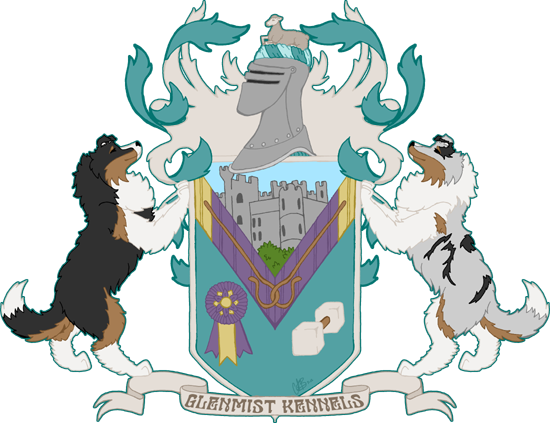 Some images are broken while I am updating the site. Thank you for visiting ~ Claire J. Miller



&nbsp &nbsp &nbsp &nbsp Welcome to Glenmist Shelties, owned by Robin Miller and daughter, Claire J. Miller. We are a small hobby kennel located in picturesque Eagle River, Alaska, specializing in classic, intelligent Shetland Sheepdogs. Our dogs are bred to go in the conformation ring as well as the performance rings, including herding, obedience and rally.



&nbsp &nbsp &nbsp &nbspROBIN: I've owned a Sheltie since 1969, when I got Robinette's Missy Prissy. She was my best friend while growing up in a new state. When she passed away, I took in a rescue named Suzie, whom I later placed here in Alaska. Afterwards, we got Prissy II from a breeder in Oregon and Caledon's Golden Nugget from Barbara Aulbach, also in Oregon.
&nbsp &nbsp &nbsp &nbsp Nugget went to live with close friends, Sarah and Hope Payne after Phil Payne passed away suddenly. He was a great comfort to them. Prissy helped raise our children Crystal, Josh, and Claire until her death in 1989. I first started showing Shelties in 1991 after joining the Shetland Sheepdog Club of Anchorage and acquiring two Shelties from Peggy Looney in Dallas Texas, Coppertop's Miss Suzie Q and Coppertop's Play Misty. Misty did not make it into the show ring, but did produce one litter, out of which we got Peggin's Ain't No Cheechako, CD.
&nbsp &nbsp &nbsp &nbsp We then obtained Dublin Hill A Touch of Jasmine from Ellen Russell in Delaware (thank you, Ellen!). Jazz took us to new heights in the dog show arena, winning both her American and Canadian championships in fine style. Even stone deaf, she's still was our wild Jazz girl, and managed to rule the roost quite ably. In January of 2007, she passed away after a 6 year battle with cancer. Today, our Shelties are also competing in the obedience, rally and herding arenas. Not only do we have a great time, but the dogs love it too!



&nbsp &nbsp &nbsp &nbsp CLAIRE J: I have grown up with Shelties all my life and can't remember a time I didn't have one. My first Sheltie was Nugget, whom mom got shortly before I was born. I helped my mother whelp a litter of puppies when I was two years old. Granted, I wasn't a whole lot of help, but at the time, I was the best help she could get.
&nbsp &nbsp &nbsp &nbsp Shelties are more than just dogs to us. They are family. The first Sheltie I had my name on was the first Glenmist dog, Glenmist the Show Stopper. Unfortunately, he never made size, so he became my little twelve pound sidekick instead. He even did activities with me in high school. Corky guest starred in a school production of Midsummer Night's Dream as Robin Starveling's Dog. He enjoyed the attention and the slices of hot dogs people gave him for being a good thespian.
&nbsp &nbsp &nbsp &nbsp In 2003, I bought my first show dog, Alpine's Swingtime with Glenmist, and she is the goofiest Sheltie I could have ever wished for. And goofy is fun. Ginger is very active in Herding, along with conformation and rally.
&nbsp &nbsp &nbsp &nbsp I'm personally really into Sheltie Rescue, and while I don't have room at my house to foster, I do enjoy making t-shirts and comics for fund raising. Shelties are a joy to have in your life and every Sheltie deserves a loving home.